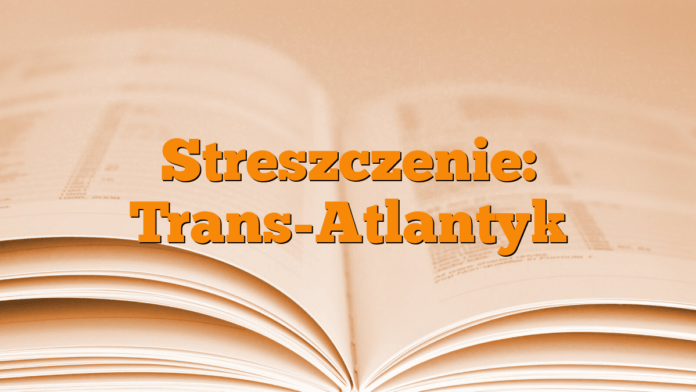 Track "Trans-Atlantic" is probably the strangest of Gombrowicz's works, if we take into account the reader's first impression, caused by the linguistic style of the work. It was also created at a strange time: just when the poverty-stricken author was cut off in distant Argentina from his natural, Polish audience - both domestic and immigrant.
And just when the tactics would require the writer to prepare a work that would have a chance to win him back the favor and interest of the audience, he creates a novel that is practically untranslatable into foreign languages. For Poles, however, it is not necessarily pleasant, as it is a frenetic attack on national stereotypes. Thus, "Trans-Atlantyk" had to fight its way through unfavorable opinion for several years, and not a single drop of ink was spilled to precisely explain the author's position.
"I defend Poles against Poland," says Gombrowicz. what does it mean? It is mainly about defending the individual's sovereignty against "patriotic terror", against herd mythology, against the imperative to praise one's own, to boast about other people's thoughts and achievements (because Polish), and to limit the freedom to develop one's own personality.
"Trans-Atlantyk" is blasphemy what is called! The main character, who is simply "Witold Gombrowicz", refuses to take part in the armed struggle against the enemies of his homeland. He meets an eccentric homosexual millionaire, Gonzal, and takes part in an intrigue to throw into his arms a beautiful boy, the son of an impeccable Polish nobleman. The hero, of course, hesitates and often denies his apostasy, which means that in the end he does not believe in anyone, he also betrays everyone left and right.
The action of the novel takes place in Argentina and is to some extent a literary replica of Gombrowicz's own cases, but at the same time the stylization of the language resembles a Sarmatian tale and the consistent ones present in the text. Although parodic, references to "Pan Tadeusz" make this work a highly ambiguous alloy, where elements of different cultures, customs and literary threads mix freely.
The protagonist has to choose between a rigid form, rooted in national tradition, represented by Ignac's father, and the anarchic chaos and wealth symbolized in Gonzalo's existence. As the action progresses, the choice becomes more and more difficult - and finally, in the finale of the book, when blood is about to flow in the clash of two ideas, a third decision unexpectedly appears - the whole argument is drowned in cathartic, gargantuan laughter. So - neither "homeland", nor "synczyzna", but a fight for distance from any idea and any obsession.
The author extensively explained the meaning of his work several times, defending himself against misunderstanding it; among others against false accusations of lack of patriotism.
See also others school reading summaries on our pages!